MechPro carries a large inventory of Heat Exchanger Plates, Heat Exchanger Gaskets, Tie bars, Tube Bundles, New Units, Valve and Pump replacements, and more.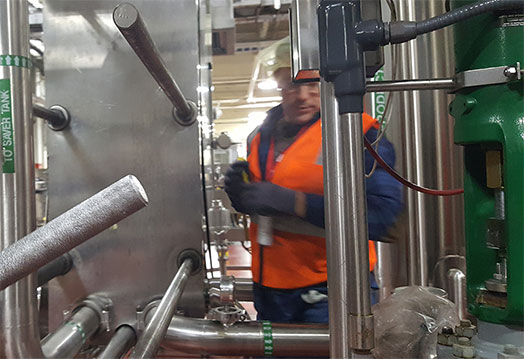 MechPro offers On-Site Heat Exchanger Service as well as operating a fully equipped Heat Exchanger Service Center near Seattle, Washington.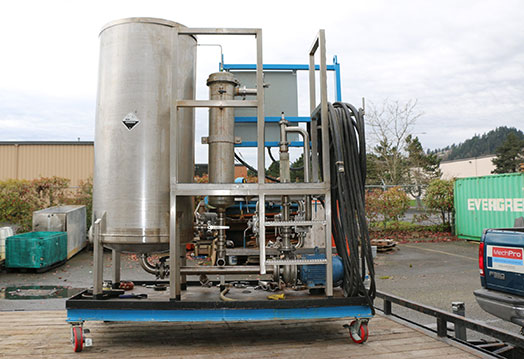 ​Clean-in-Place (CIP) Service
MechPro utilizes a sophisticated mobile CIP unit for specialized onsite clean-in-place Heat Exchanger cleaning jobs that require chemical flushing.
Our
Heat Exchanger Services
Plate Pack Replacements
Whether you need to replace failed plates or add spares to your inventory,  MechPro Inc. carries a large inventory of heat exchanger plate replacements for plate and frame heat exchangers (PHEs).  
Plate & Frame Heat Exchanger Service
MechPro services all major brands of plate and frame heat exchangers, including Alfa Laval, APV, GE, ITT, Kelvion, Mueller, Sondex, SWEP, Tranter, and Vicarb.
Chemical Clean-in-Place (CIP) Service
The CIP method MechPro Inc. utilizes for removing contaminants and build-up from sanitary process lines, marine vessels, and equipment used in process plants requires no equipment removal or disassembly.
Heat Exchanger Cleaning
Regular deep cleaning of both Shell & Tube heat exchangers and Plate and Frame heat exchangers is essential to maintain optimal efficiency, maximize performance, and prevent failure.
Marine Keel Cooler Service
MechPro's services for surface-mounted and recessed marine keel coolers include acid dipping and neutralization, deep cleaning, barnacle removal, scraping and straightening, header replacement, and gasket replacement.
24/7 Nationwide Emergency Service
Call MechPro's Professional Team to troubleshoot and repair your heat exchanger today. MechPro services all 50 states, provides on-site services, competitive rates, with multiple T.W.I.C. cardholders.
Shell & Tube Heat Exchanger Service
MechPro's on-site and off-site Shell & Tube services include inspection, leak detection and repair, power rod cleaning, fouling mitigation, decalcification, and gasket replacement.
Heat Exchanger Gaskets
MechPro carries a large inventory of OEM quality rubber gaskets which are essential for preventing liquids within the Plate Heat Exchanger from leaking or mixing. 
Marine Oil Cooler Service
This is an example of a short passage of text used to give your customer a brief overview of a particular service.

HEAT EXCHANGER SERVICES
COMPANY HISTORY
MechPro has been servicing commercial and industrial Heat Exchangers since 2008.
MechPro's highly-trained heat exchanger mechanics know how to put their specialized knowledge and equipment to good use to tackle the difficult task of disassembly and reassembly of any plate exchanger in just minutes compared to hours by conventional means.